August Dental Month
* $1 Dental Exam!
* August: $50 off for a dental procedure!
Advanced Dental Procedures at Arroyo
With addition of more veterinarians to our team, now we are able to offer more services for our furry friends. With Dr. Kornfeld providing his services on Wednesdays and alternate Saturdays we are able to offer more than just a dental cleaning or a tooth extractions.
As part of our August Dental Month, this pet came in for $1 exam and a crown fracture of one of the most vital molar teeth in the mouth was diagnosed. The root canal was exposed which only lead to two options:
1. The traditional extraction- which could start another cascade of morbidities because of the missing tooth
OR
2. Root Canal Treatment.
Dr. Kornfeld at Arroyo Veterinary Clinic performed a successful root canal treatment filling both the roots of the fractured molar, saving this pet's tooth. This procedure will allow this furry friend to eat its food normally!
Studies indicate 75% of dogs and cats over 3 years in age have dental disease. Have you had your pet's teeth checked lately?
Schedule your pet's $1 dental exam today. If a dental procedure is recommended, get additional $50 off if scheduled within August.
Call 510-278-8440, limited dental appointments still available.
For most of us, a visit to the dentist is scary. We tend to extrapolate the same feelings for dental exam visits for our furry friends. Unfortunately, this fear may lead to undiagnosed dental disease for your loving pet. Dogs have 7 time faster rate of plaque formation than humans. By 3 years of age, 75% of dogs and 80% of cats may have dental disease.
At Arroyo Veterinary Clinic we offer routine periodontal therapy which includes cleaning, polishing and teeth x-rays. We also provide advanced treatments like composite restorations to treat chipped teeth, root canals to salvage non-vital teeth as well as bone augmentation to treat bone loss from advanced periodontal therapy. All these therapies may help us to avoid advanced dental disease requiring the only treatment option, the dreaded teeth extractions.
Call us now to get more information on our dentistry services. 510-278-8440.
______________________________________________________________________________________
National Pet Dental Month
January: $1 Dental Exam!
February: $50 off for a dental procedure!
Limited appointments available for $1 Dental Examinations (January only) and $50 off for any dental procedure (first 50 clients, February only). Call 510-278-8440 to book your pets $1 dental evaluation.
The Tale of a Painful Mouth
We recently helped a 12 year terrier pet to get his smile back. The pet-parent brought him in for a dental exam after noticing. bad breath. Upon careful dental exam a big area of gum loss with puss was observed between the back pre-molar and molar teeth of his upper jaw. The owner was shocked to see the extent of periodontal disease because his pet would not allow owner to check his mouth because of painful mouth.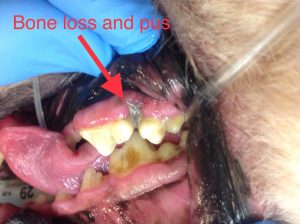 Periodontal therapy with bone augmentation was recommended to salvage these very important teeth. While under anesthesia, dental x-rays was performed to determine the extent of dental disease. Significant bone loss was observed on the x-ray image. (Red arrows). The cause of bone loss was determined to be periodontal disease leading to cause by inflammation and infection around the root surface underneath the gum surface.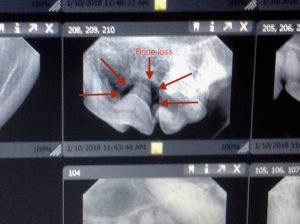 It was determined, its best to "save" these teeth with bone augmentation procedure. The first step was to open a window by cutting and raising a gum flap (blue arrow) to expose the diseased root.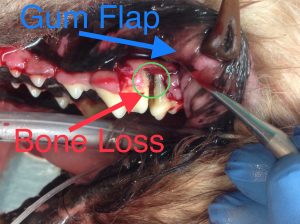 A magnified image clearly shows dark pigmentation around the root, determined to be the source of infection (green circle).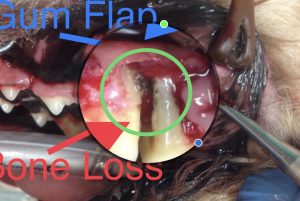 Open root cleaning to completely remove the infection was performed. After removing the infection, a bio-glass material was applied (yellow box). The highly porous form of this material provides scaffolding for in-growth of blood vessels and bone building cells, eventually regenerating the bone.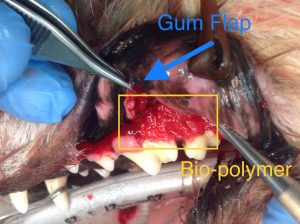 Finally, the gum flap was brought down and the "window " was closed with sutures to cover the bone augmentation site. In most cases complete new bone is formed within 4-6 months. With this, our senior patient and his owner lived happily ever after with no oral pain or bad breath!!!
If your pet has early or advanced dental disease, schedule a dental consultation immediately. contact our office to see Dr. Kornfeld, our residency trained veterinary specialist.
Call 510-278-8440